The Gower Peninsula
A Guide to the Gower Coast & Interior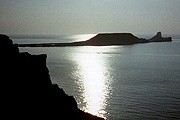 The Gower Peninsula is a small, self-contained area on the South Wales coast, the first in Britain to be designated an Area of Outstanding Natural Beauty, in 1958. In spite of its small size, it boasts a wide variety of terrain types, including long sandy beaches, dramatic cliff scenery, islands, extensive marshlands, numerous caves and even a few small hills. It's also home to no less than 6 castles and numerous hill forts. Not bad for an area only 16 miles long and 5-8 miles wide, 80 square miles in area.
For those who enjoy city life, Swansea is a good base from which to visit Gower, with plenty of accomodation available. Check out the Tourist Information Centre near the main bus station. Mumbles, at the southwestern end of Swansea, is a bustling holiday location in the summer with many hotels, restaurants and pubs. For those who wish to avoid the city, there are plenty of caravan and camp sites situated all over Gower, so there's no problem finding accomodation in the area.
---
Geology
Most of Gower is formed of limestone, which is responsible for the cliffs, islands and caves. Many of the bays have been formed where softer millstone grit has eroded away. Most of Gower is approximately 200ft high and is actually a wave cut platform. Above this rise a few isolated hills, monadnocks, composed of tougher old red sandstone. These Gower rocks actually forms the south-western edge of a roughly circular area of sedimentary rocks, the northern edge of which forms the Brecon Beacons. The same rocks can be seen there, but in quite a different configuration.
In ancient times the sea level was much lower and what is now the Bristol Channel was once a huge low-lying plain.