About Wilderness Wales
Wilderness Wales was first published on the internet on 20th May 1999. To celebrate the 10th anniversary I've completely redesigned the site and published this new version on June 1st 2009.
The goal of this site is to provide information and photographs about walking in the wilds of Wales. It includes summit lists, trip reports and articles about the outdoors.
A new feature of this redesign is the introduction of area guides, covering the various wild parts of Wales. Although the content is pretty sparse at the moment, I plan to extend these to provide comprehensive information. This of course will be an ongoing work in progress, as I visit and photograph these areas. To begin with I'll concentrate on the areas I know best.
The photo galleries have now been removed. Many of the photos from the galleries will be redistribited throughout the area guides instead. My best photos will be shown in a new website called Wilderness Images.
Likewise, the uk.rec.walkers section has also been removed and the information there will be moved to a dedicated site called uk-rec-walking. Both of these sites are still under development. For the moment, the existing link to uk.rec.walkers should still work.
It will take a while to reformat the old content to match the new design, and to add new content, so there will be some disruption for a while, but hopefully it won't take too long to sort it all out.
About Me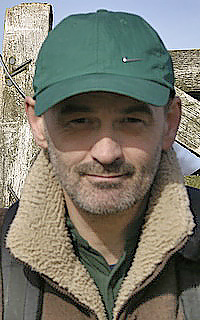 My name is Paul Saunders and I was born in South Wales. I've been walking in Wales since 1977. I took my first photographs in 1979, but didn't get serious about landscape photography until 1985, since when I've been building up a large collection of images of the Welsh wilderness.
When I started this website, the following information applied (but is now out of date):
Main Equipment
Cameras: Olympus OM3, OM1N.
Lenses: Tamron 24-48mm, 28-80mm, 60-300mm, Tokina 70-210mm.
Filters: Skylight 1B, warm 81A, graduated grey (+1/+2), polariser.
Film: Mostly Fujichrome and Velvia (primarily 35mm, some 6x6cm/6x9cm).
Digital Processing: Minolta Dimage Scan Dual (30-bit, 2438 dpi), VueScan, Photoshop 7.
Notes
Most images on this site were scanned from 35mm slides and negs using the Minolta scanner.
Since then I've converted to digital. I bought a Horizon 202 panoramic camera in 2002, and my first digital camera, a Canon G3, in 2003. Since then I've added a Canon 300D, a Canon 400D and a Canon G9 to my collection. I process my images in Photoshop and occasionally Photomatix Pro (for HDR shots).
I now have a Nikon Super Coolscan 4000 for scanning film, which produces superb results. However I rarely have the time to scan film anymore, preferring to work with digital these days. I still have a large collection of good film shots though, the best of which I'll eventually get around to scanning.
Contact Address
E-Mail:
Note: Due to the large amount of spam that I get, genuine emails can sometimes slip through the cracks. For this reason, please try to use a distinctive subject line that doesn't look like spam. To be sure, include my name or Wilderness Wales in the subject line.
If you do email me and don't receive a reply within a reasonable amount of time, please email me again in case I accidentally deleted the original.