Gale Force Wildcamp
Day 2 - Gales & Hill Fog
I awoke at 4am to the sound of wind trying to shake my tent apart. During the night the gales started, and they continued for the rest of the trip. Opening the porch exposed me to a howling gale. During the night the wind had changed direction, a full 180 degrees!
This wasn't a big surprise. I've camped here quite a few times in the past and I've often noticed that the wind only seems to blow in two directions here, northwest or southeast, irrespective of the actual wind direction higher up. You might think that the long escarpment would shelter you from a westerly wind, but somehow the wind tends to find a way around and often blows parallel to the ridge, either one way or the other. I also found myself engulfed in hill fog.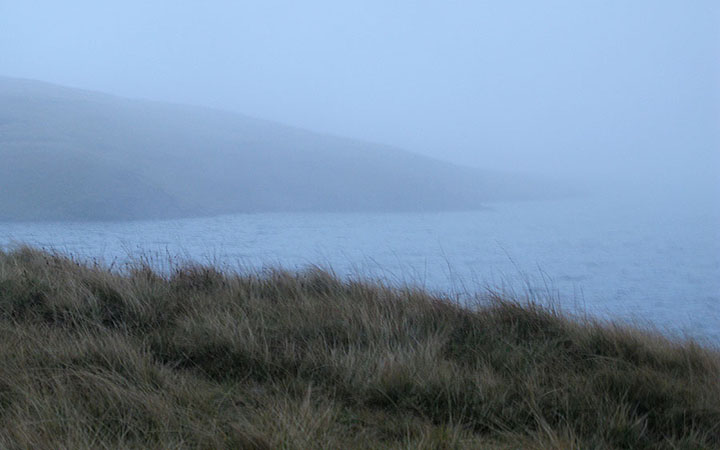 A Foggy Morning over the Lake
Later, at sunrise, I opened the tent to find to find the lake shrouded in thick fog. Not the "dry bright start with plenty sunshine" that I'd been expecting. In fact, with the opposite bank of the lake obscured by fog, my first impression on looking out was that I'd camped at the edge of the sea! The waves racing across the lake due to the wind reinforced that impression. A miserable day was in prospect, stuck in the tent being constantly battered by gale force winds.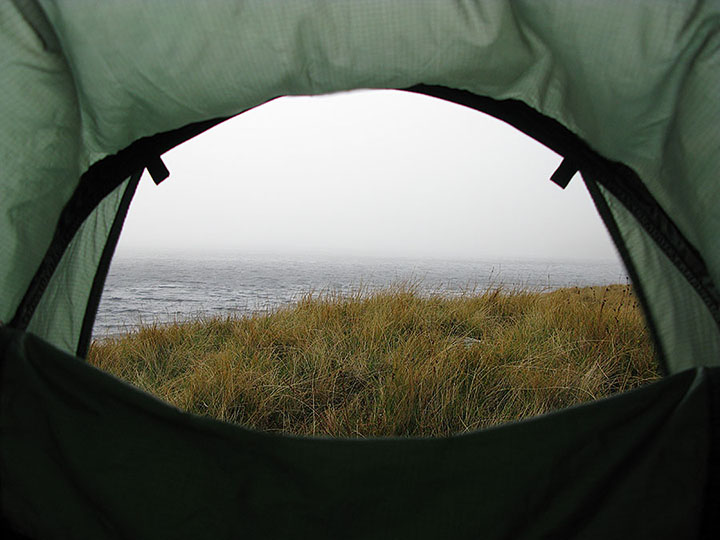 The View from the Tent
This was the bleak view from inside my Nallo 2, taken during a momentary lull in the wind. Pleasant enough if it had been calm, but it wasn't. The endless noise soon took it's toll, and the scene outside didn't inspire me to go out to take photographs. A bit peeved I just chilled out in the tent listening to music, hoping the situation would improve later. It didn't.

There's no Place like Home
At least I had everything I needed inside the tent. After a meal of rice vegetable something or other, I settled down to a nice cup of fennel tea. My mobile phone was used to give me the temperature (around 10 degrees centigrade) and to record the noise of the wind (up to 90 decibels in the worst gusts).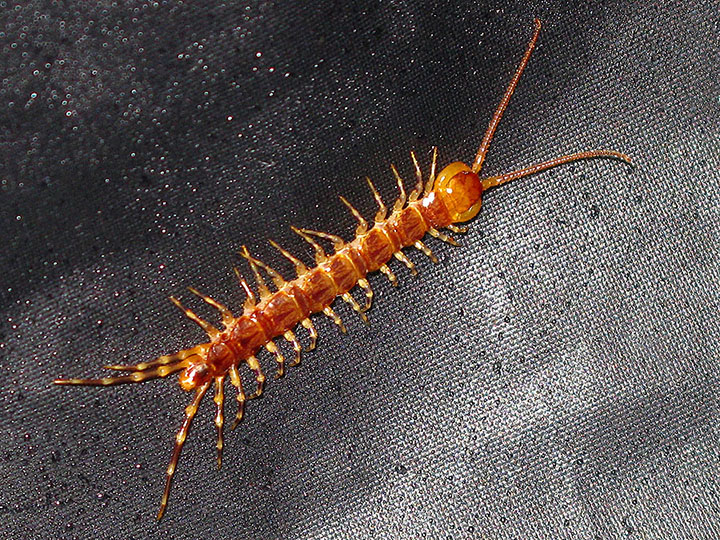 An Interesting Visitor
This centipede decided to pay me a visit and keep me company out of the wind. I don't know how it got in, but it helped pass the time. I haven't seen one exactly like this before.
Next Page: Lifting Hill Fog
Previous Page: Moonlight over the Lake