Gale Force Wildcamp
A Weekend of Gale Force Winds and Hill Fog
Llyn y Fan Fawr - Brecon Beacons - 8th-10th October 2008
Introduction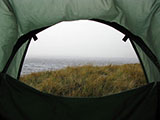 A few days ago I chose to endure a couple of days stuck in a tent battered by incessant gale force winds on a bleak mountain shrouded in hill fog! But it wasn't my fault, I checked the forecasts carefully before I went, particularly the Met Office mountain forecast, but I was misled. I even saved the page as evidence.
For Thursday they promised "Dry bright start with plenty of sunshine, the sun turning hazy and fading later as clouds stream in from west and thicken." Instead I awoke to find myself engulfed in thick hill fog. Later it rose but the summits were covered all day and there was never any sun. So much for "Excellent visibility. Scattered or limited patches of cloud well above summits."
I did know it was going to be breezy. They forecast "Southwest 15 to 25mph increasing 25 to 30mph, some gusts 40mph by dusk." But it was far worse than that. On my return, the forecast for Friday said "Gales. South to south westerly at 40 to 50 mph." Sounds just like Thursday! It also said "Visibility: Moderate locally poor, Cloud Base 400m to 700m". Also sounds like Thursday to me, an exact description in fact.
So, the Met Office got it wrong. What a surprise! Their forecasts are usually so reliable, aren't they? ;-)
This is definitely a contender for one of my worst camping trips ever. Why did I even bother? Oh yeah, I remember, I was under the illusion that I might get to photograph a fantastic sunrise on Thursday morning!
So, let's get on with the trip report...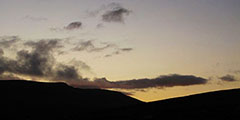 Okay then, I hadn't been camping for a very long time, so I was well out of practice and it took me ages to find all the bits and pieces that I needed. So long in fact that I missed all of Wednesday's beautiful wall to wall sunshine! (I can't be sure it was like that in the hills, but it wasn't too bad when I arrived at sunset).
Forgetting my lightweight principles due to paranoia about possible cold temperatures and long autumn nights, I chose to take my big tent, my winter sleeping bag, and while I was at it, I figured I may as well take my luxury Thermarest. After all, I was planning to stay out for as many as four nights (since there was a possible inversion promised for Sunday morning) so I figured I may as well live in luxury while I was there.
This of course necessitated the big rucksack (70L) and since I had so much space, I thought I'd take a book or two, well three, for a little light reading, plus the G9 underwater case for the inevitable rain on Friday/Saturday.
Also I had a lot of fresh food in the fridge and I didn't want it to go off, so I took a lot of it, and I couldn't find a full container of gas (even though I know I've got one somewhere) and all I could find was four nearly empty containers, so I took them all. And of course, I couldn't forget my full DSLR kit, tripod, G9, GPS, a couple of torches (one was dodgy), two MP3 players and loads of batteries! You can't accuse me of not being well prepared!
Now then, anything else I might need? Oh yes, my down jacket for the chilly mornings...
Would it surprise you that I could barely fit everything into my 70 litre sack? Even allowing for the fact that my DSLR gear is all packed on my belt? The tent had to be strapped to the outside, along with my waterproofs.
I didn't weigh it all until I got back, and when I did, it came to 22.5kg. Allowing for the food I ate and fuel I used, I probably started with about 24kg! Ah well, it was only two miles to the camp site with a mere 170m of ascent. I figured the luxury would be worth the suffering. What I failed to factor in was how unfit I was at the time, not to mention how overweight!
Speaking of the latter, I was three stone overweight then, which is 19kg. Add a couple of kg for the weight of my clothes and I was actually carrying about 45kg of extra weight in total, around 100 pounds! No wonder I was knackered by the time I reached the camp site!
Next Page: A Late Start