Fforest Fawr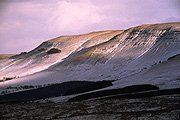 The least popular part of the park, the peaks of Fforest Fawr aren't as high as elsewhere, nor are the cliffs so dramatic, yet it has many hidden charms. Probably the best of them is the solitude, since few people walk in this area. The summits are modest and tracks are few, it's a good place to get away from it all.
The river valleys between the peaks of Fforest Fawr flow south into the Ystradfellte area, famed for its caves and waterfalls. This is worthy of special merit, so I've devoted a separate section to the Ystradfellte Falls.
Due to it's geological interest, the area has recently been designated as the Fforest Fawr Geopark. The geopark extends further west and includes part of Mynydd Du.