The October Project 2003
A Walk and a Photo every Day of the Month

My favourite month of the year is here again, and this time around I've decided to do something a little different. In the past I've never seemed to make the most of this month, always ending up wishing that I'd gone out more, so this year I've decided to set myself the task of going out on every single day of the month.
This is not a physical challenge, I'm not setting out to cover vast distances or push myself to the limit in any way. It's more of a mental challenge, simply to make the effort to switch my computer off, get up out of my comfy chair, and go out to enjoy the best, and the worst, that October has to offer, come rain or shine, inversion or gale. My intention is to go out no matter what, and experience it all.
Naturally I will be recording all my experiences in photographs. Photography is the main reason why October is my favourite month, because the opportunities for capturing landscapes are better than in any other month. Not only because of the well known autumn colours, but also because of the temperature inversions which are relatively common at this time of year.
It doesn't matter where I go or how far I walk, just getting out there is the goal, but in the process I'll undoubtedly cover some distance, so I've set myself a mininum target of 100 kilometres, which should be easy to achieve. I may add a few other targets as I go along. Hopefully I'll end up a bit fitter as a result of all this.
As the month is progressing it seems that one of the main challenges is to take a good photograph each day - the pic of the day is becoming an objective in it's own right.
One other thing I've decided is to try to visit different locations on each walk, for the sake of variety. There is however one main exception - the Ystradfellte waterfalls. I'm keen to expand my waterfall collection on the digital, medium format and panoramic mediums, and October is the best month to do that, with its wonderful colours and the likelihood of heavy downpours to flood the rivers and show the falls at their best. I expect a number of visits this month. So far though, rain has been in very short supply, not that I'm complaining about that.
Click on the thumbnails for a larger picture and details of each walk.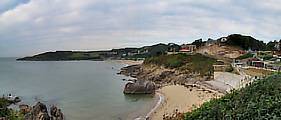 Day 1 - Mumbles to Langland Bay, Gower Peninsula
Still recovering from a cold I chose an easy walk to start - a gentle stroll along the Gower coast, from Mumbles to Rotherslade to Langland Bay and return.
Distance: 4.1km - Ascent: 130m - Effort: 5.4
Duration: 1 hour 8 minutes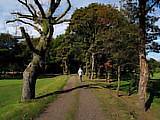 Day 2 - Glais Riverside with Bill Grey, Swansea Valley
Feeling a bit worse I didn't feel up to doing much, so I opted for an even shorter walk accompanied by Bill Grey, who took me on a tour of the river and golf course near his home.
Distance: 2.3km - Ascent: 0m - Effort: 2.3
Duration: 1 hour 6 minutes.

Day 3 - Carreg Cadno, Brecon Beacons
Feeling a lot better, this is the first decent walk of the month, with rugged scenery, atmospheric weather conditions, and of course, lots of photographs.
Distance: 5.0km - Ascent: 210m - Effort: 7.1
Duration: 3 hours 46 minutes
Day 4 - Kilvey Hill, Swansea
Feeling lazy I opted for a quick short walk up my local hill, with a mixture of sunshine, nice clouds, a shower and a rainbow.
Distance: 3.0km - Ascent: 170m - Effort: 4.7
Duration: 47 minutes.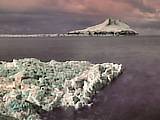 Day 5 - Worms Head with Chris Street, Gower Peninsula
Chris travelled from England to join my on my fifth day's walk. At his request we went to Worms Head. The light was amazingly clear and photo opportunities good. We unexpectedly encountered a family of seals out on the island.
Distance: 6.2km - Ascent: 90m - Effort: 7.1
Duration: 4 hours 49 minutes

Day 6 - Afon Nedd Fechan, Ystradfellte Falls, Brecon Beacons
The first waterfall walk, a short stroll along the Afon Nedd Fechan to photograph Sgwd Ddwli and Horseshoe Falls.
Dist: 2.4km - Asc: 60m - Effort: 3.0
Duration: 1 hour 20minutes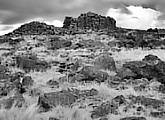 Day 7 - Garreg Lwyd, Brecon Beacons
A cold windy day on a bleak stony mountain top, with smatterings of sunshine but mostly dull and dreary. The clouds were quite interesting, but the wind chill unpleasant without gloves. Not many good photographs today.
Dist: 3.4km - Asc: 170m - Effort: 5.1
Duration: 2 hours 1minute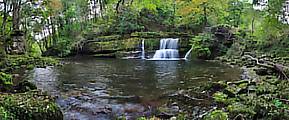 Day 8- Afon Mellte, Ystradfellte Falls, Brecon Beacons
The second visit to the waterfalls, a longer walk along the Afon Mellte to photograph Sgwd Clun Gwyn, Sgwd Clun Gwyn Isaf and Sgwd y Pannwr. The steep sided valleys gave the highest ascent so far.
Dist: 5.3km - Asc: 250m - Effort: 7.8
Duration: 3 hours 45 minutes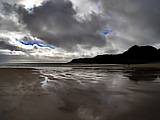 Day 9 - Langland Bay to Caswell Bay, Gower Peninsula
Continuing westwards from the Gower walk started on day 1, from Langland to Caswell and return. A windy, cloudy day with smatterings of rain. Another easy stroll.
Dist: 4.5km - Asc: 120m - Effort: 5.7
Duration: 1 hour 33 minutes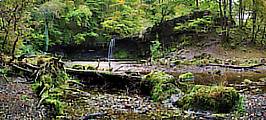 Day 10 - Sgwd Gwladus, Ystradfellte Falls, Brecon Beacons
Third visit to Ystradfellte, this time along the Afon Pyrddin to Sgwd Gwladus - "Lady Falls". A calm, pleasant but uneventful day.
Dist: 4.0km - Asc: 50m - Effort: 4.5
Duration: 3 hours 28 minutes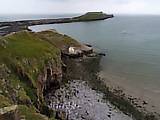 Day 11 - Worms Head with Mike Gambatesa, Gower Peninsula
A second visit to Worms Head to video the seals. An otherwise uneventful day with overcast light. One of the lowest tides of the month.
Dist: 5.5km - Asc: 90m - Effort: 6.4
Duration: 2 hours 54 minutes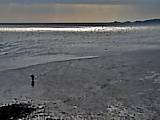 Day 12 - Swansea Docks
A short stroll along the pier during yet another dull, overcast day, with occasional breaks in the cloud and the wind getting stronger. Another extremely low tide.
Dist: 2.1km - Asc: 0m - Effort: 2.1
Duration: 42 minutes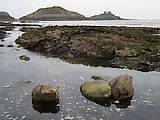 Day 13 - Bracelet Bay, Mumbles, Gower Peninsula
Another overcast day, so I went to the Mumbles just to take a few photographs, with very little actual walking involved.
Dist: 0.6km - Asc: 10m - Effort: 0.7
Duration: 42 minutes
Day 14 - Clyne Gardens, Swansea
Yet another overcast day. An easy local stroll to photograph some autumn colours.
Dist: 1.6km - Asc: 60m - Effort: 2.2
Duration: 1 hour 12 minutes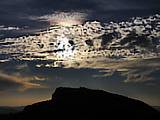 Day 15 - Cribarth, Brecon Beacons
My first really good hill day of the month. Not a long walk or a high summit, but very clear light and interesting clouds.
Dist: 4.3km - Asc: 280m - Effort: 7.1
Duration: 1 hour 44 minutes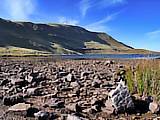 Day 16 - Fan Brycheiniog, Brecon Beacons
A return to my most frequented summit, Fan Brycheiniog on Mynydd Du, the closest high summit to my home. A great day for it with clear light and haze below the inversion layer.
Dist: 8.3km - Asc: 450m - Effort: 12.8
Duration: 3 hours 17 minutes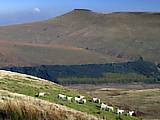 Day 17 - Fan Fawr, Brecon Beacons
My second walk with Bill Grey this month, a spontaneous change of plan in response to rapidly changing weather. Bill's first ascent of Fan Fawr on a very windy day.
Dist: 5.4km - Asc: 340m - Effort: 8.8
Duration: 3 hours 32 minutes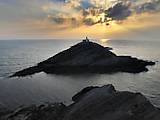 Day 18 - Mumbles Head, Gower Peninsula
Another "taking it easy" kind of day, a short trip to Mumbles to photograph the sunrise.
Dist: 0.2km - Asc: 20m - Effort: 0.4
Duration: 52 minutes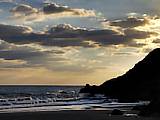 Day 19 - Caswell Bay, Gower Peninsula
A short stroll in the late afternoon.
Dist: 1.4km - Asc: 60m - Effort: 2.0
Duration: 51 minutes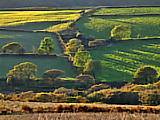 Day 20 - Mynydd y Gwair, South Wales Coalfield
A late afternoon drive around the hills just north of Swansea, to capture the sunlight grazing the hillsides.
Dist: 0.1km - Asc: 0m - Effort: 0.1
Duration: 38 minutes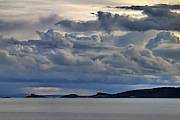 Day 21 - Swansea Bay
Some photographs of Swansea Bay taken from the promenade. No sunshine but excellent clouds.
Dist: 0.1km - Asc: 0m - Effort: 0.1
Duration: 26 minutes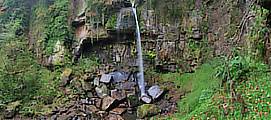 Day 22 - Melincourt Fall, Neath Valley, South Wales
Another waterfall walk, but in a slightly different area this time.
Dist: 1.1km - Asc: 30m - Effort: 1.4
Duration: 37 minutes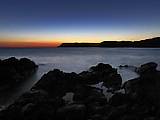 Day 23 - Whiteshell Point, Gower Peninsula
Another waterfall walk, but in a slightly different area this time.
Dist: 1.4km - Asc: 50m - Effort: 1.9
Duration: 1 hour 45 minutes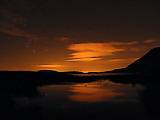 Day 24 - Llyn y Fan Fawr with URW, Brecon Beacons
A solitary night walk up to the lake for the uk.rec.walking wild camping Expedition 14. A very cold night but with excellently clear skies. The Milky Way looked magnificent.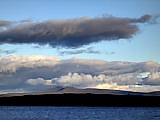 Day 25 - Llyn y Fan Fawr with URW, Brecon Beacons
Day two of the uk.rec.walking wild camping Expedition. A good sunrise but mixed weather afterwards, ending in hill fog rain and strong winds.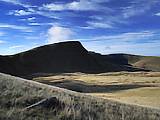 Day 26 - Llyn y Fan Fawr with URW, Brecon Beacons
The last day of the Expedition. An excellent day all around, good light and a decent walk, marred only by a very chilly wind on the tops.
Day 27 - Three Cliffs Bay, Gower Peninsula
A pleasant late afternoon stroll in the warm sunlight, an easy day after the weekend. Last chance to enjoy the sunshine before the incoming rain.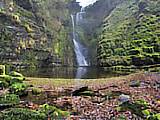 Day 28 - Sgwd Einion Gam, Ystradfellte Falls, Brecon Beacons
An enjoyable walk to the my favourite waterfall, the highest in the Ystradfellte area, and the most difficult to get to. I chose this as the first of the last remaining falls to be photographed this month, before the rain that had now started to fall made access too difficult.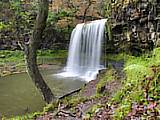 Day 29 - Afon Hepste, Ystradfellte Falls, Brecon Beacons
Two waterfalls on the Afon Hepste this time, that I haven't visited for quite some time, including the famous Sgwd yr Eira. After a day of rain, the first proper rain all month, the rivers were starting to rise and improve the look of the falls, although they were still not high by normal standards.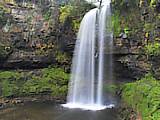 Day 30 - Henryd Falls, Afon Llech, Swansea Valley
After two days of rain conditions were becoming miserable, with very dark skies, so I visited that last of the twelve major falls in the area from the nearby car park, instead of walking the whole valley. It was not an enjoyable day and the few photos I took were spoilt by raindrops.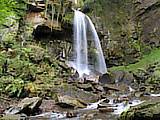 Day 31 - Melincourt & Henrhyd Falls, Neath & Swansea Valleys
To end the month I decided to revisit two falls, the first was Melincourt which had looked distinctly wimpy on my first visit, and Henrhyd again, to retake the spoilt shots of the previous day. Fortunately the rain had stopped by this time so conditions were far more pleasant.
Stats after 23 days
Distance: 72.3km - Ascent: 2640m - Effort Rating: 98.7 - Duration 42 hours 27 minutes - Summits: 6