Day 26 - Mynydd Du Escarpment
Brecon Beacons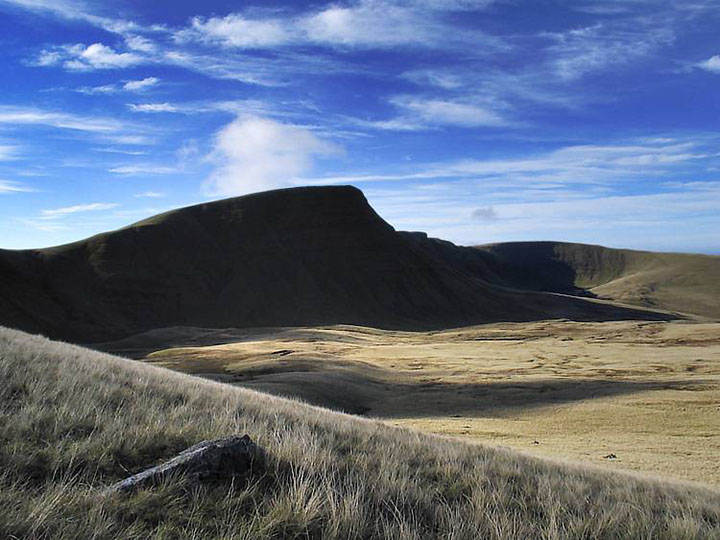 The north face of Bannau Sir Gaer, seen from Fan Foel
After some ten hours sleep I really shouldn't have felt tired on Sunday morning, but I did. Having spent a fitful night, waking periodically, the wind and rain had eased to a pleasant calm, and it didn't feel as cold as the previous night. I suspected that the calm meant clear starry skies, but I never bothered to take a look. As it got light though, I was compelled to get up, fire up the gas stove for a nice cup of coffee, and alert the others to the impending sunrise.
The second sunrise was a little better than the first, and featured the very odd shrouding of all the Beacons summits in localised hill fog, yet our summit remained clear. From Fan Gyhirych across the valley to Pen y Fan in the distance, was a line of foggy summits, reminiscent of the very first sunrise I ever experienced here, back in October 1984. Fond memories indeed, but it wasn't exactly the same. Why Fan Brycheiniog remained clear of fog is a mystery, but it was most fortunate.
As we each emerged from our tents we went our separate ways, capturing the sunrise according to our inclinations. I particularly like the way myself and Phil Cook exchanged no words whatsoever, even when taking a few photos in close proximity, by my favourite "Black Pool", a small pond near the tents, a good foreground for sunrise photographs. Somehow mere conversation was unnecessary in the face of a mountain sunrise. I chose to wander uphill to a prominent viewpoint from which it was possible to photograph the whole lake. From there I started to climb Twr y Fan Foel, a steep ridge that sticks out of the escarpment, offering a cliff free route to the summit. As I ascended though, fog began to form on the top, so I changed my mind and went back to the camp site instead.
Phil was keen to go off on a walk of his own to visit a plane wreck. He didn't have time to do the main walk with us, he had to leave early. A pity. A short while after he left, myself, Mike and Mark set off to contour around the northern escarpment, heading for Llyn y Fan Fach.
Bannau Sir Gaer looked good, in spite of being in shadow, and the walk to the lake was pleasant and scenic, as we followed along drainage channel that led to the lake. The lake itself was a disaster area though. Not only was it low because of the recent lack of rain, but also low because it is no longer used as a reservoir. The result was an extremely low water level. A large portion of the lake was a muddy sludge. I wanted to walk out to the edge of it but my footprints were getting so deep that I decided not to risk it.
A number of people were picnicking around the lake, and a horde of walkers arrived at just about the same time. Perhaps a bus load of people had been dropped off? A pity, but then again, it was Sunday, so what can you expect?
We climbed the western slopes to Waun Lefrith, battered by an extremely icy wind, and determined that the cairn was indeed in the wrong place. Shortly after a brief snack we met Roger Chapman, who'd also decided to put in an appearance. He chose to continue on to bag Waun Lefrith then return to join us. Seizing our opportunity we upped the pace and managed to reach the summit of Bannau Sir Gaer just before he caught up with us. He was surprised at our pace, but we were pleased that we'd actually managed to beat him for a change!
Then we returned to our normal walking pace...
We stopped for another lunch break at the col, the headwaters of the Afon Twrch, then continued directly to the summit of Fan Brycheiniog. Contouring around to Fan Foel and following the ridge had been an option, certainly a more scenic one, but given the extra-chilly wind I didn't mind giving that a miss.
We said goodbye to Roger at Bwlch y Giedd, where he continued on to Fan Hir, while we descended back to the lake, having completely missed Bill, Fran and family who'd come up to meet us. A pity about that.
Shortly after returning to the tents we packed up and made our way back to the cars, in daylight this time, a much more pleasant walk by day. As we did the sun began to set and nicely coloured clouds developed behind us over Fan Brycheiniog. There was a pleasant calmness back at the lake that seemed to be trying to encourage us not to leave, but most of us had little choice in the matter.
All in all, a horrible wonderful weekend. Some miserable hill fog, strong winds and rain, mixed in with two good sunrises and wonderfully clear skies and sunshine. Chilly, but no insects. Not the best October weekend ever, but far from the worst. A good mixture of different conditions, an interesting and varied weekend. Definitely thumbs up for this expedition.