Day 16 - Fan Brycheiniog
Brecon Beacons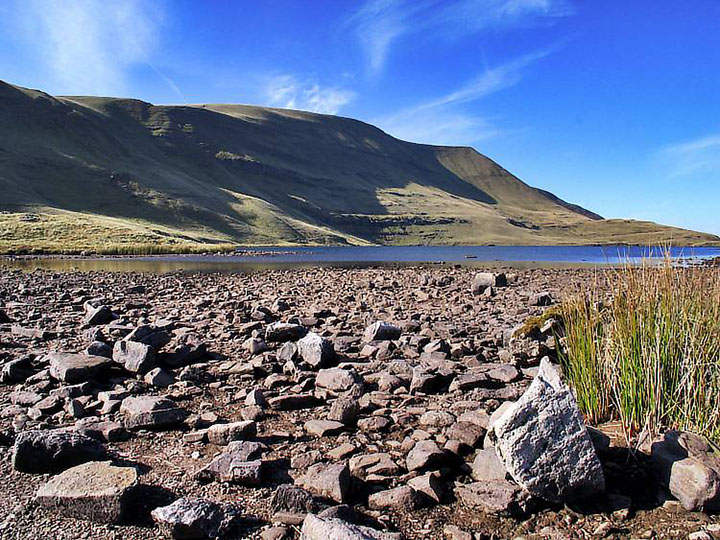 Llyn y Fan Fawr & Fan Brycheiniog
"Low tide" after a long dry spell
Now that the sunny weather had finally arrived I decided to climb a decent hill for a change, so I revisited my "local" mountain, Fan Brycheiniog. I've climbed this summit more often than any other. Although somewhat hazy in the valley, the sunshine was extremely clear on the tops, due to a temperature inversion. From the summit could be clearly seen a dark horizontal line through the sky, below which everything was brownish and murky, but above everything was crystal clear. The cold easterly breeze was a little stronger than the previous day on Cribarth, and so gloves were a good idea.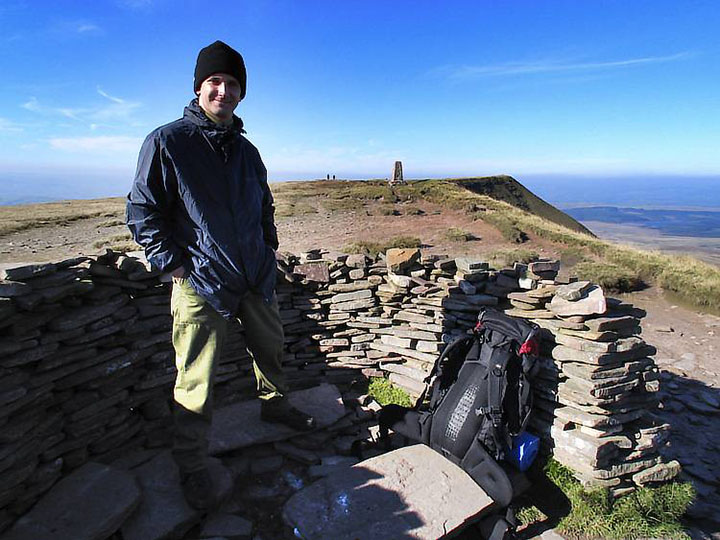 Graham from Brynamman
The inversion layer can be clearly seen in the background
At the summit shelter I met Graham from Brynamman, and we chatted for a while. He was spending a few days wandering around and bivvying on Mynydd Du, and he picked some great weather to do it, although personally I wouldn't be too happy in a bivvy bag at this time of year.
On the way back I saw a red kite riding the breeze along the cliff edge. A pity I had to return, it was good camping weather. This was the longest and hardest walk so far this month (not actually long or far, just relatively long and far). This is the first time I've exceeded the effort rating limit of 10, which I class as a short, easy walk.
Distance: 8.3km - Ascent: 450m - Effort Rating: 12.8 - Duration: 3 hours 17 minutes