Day 31 - Melincourt & Henrhyd Falls
Neath & Swansea Valleys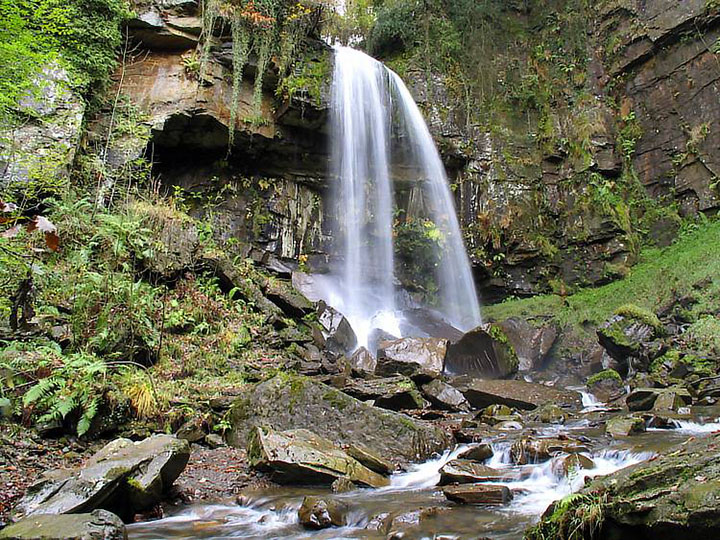 Melincourt Fall with a decent amount of water this time
The final day! I had considered ending the month on a high, by climbing Pen y Fan, but in spite of some early sun, the afternoon was overcast and I had a couple of loose ends to tie up, so it was back to the waterfalls again, two of them, in two separate short walks. Luckily the rain had stopped so there was no need for the brolly-pod, although I took it just in case.
First I revisited Melincourt Waterfall. Although I'd got some pretty good pictures of it earlier in the month, the fall itself was quite pathetic, with barely a trickle coming over the 80ft high fall. This was the worst waterfall shot I'd taken in terms of water quantity, so I wanted to get a better one after all the recent rain.
The autumn colours were looking really good this time, and the fall was looking much better. I took quite a few different photographs this time, different angles, compositions and viewpoints, including a couple of panoramas. It was amazing how much more convenient it was to do this without the hassle of having to set up a brolly pod too. The spray caused a few problems and required much lens cleaning in between shots, but it was still much easier without any rain to contend with.
Next I revisited Henrhyd Falls. After the previous day's photographic disaster I was determined to get some decent shots. As I approached the car park I passed a farm with a black labrador running down the driveway. As I parked the car the same dog (I presume) ran up to meet me. As I proceeded to walk to the falls the dog followed me. I was going to open and shut the gate quickly to stop him getting through, but before I even got there he dived under a small gap in the fence. Obviously this dog knew his way around, and seemed determined to accompany me to the falls.
To be fair, he wasn't leaping up all over me, just running back and fore along the track, so he wasn't really with me, but near me most of the time. I tried taking a few snaps of him, but it wasn't easy as he wouldn't stay still. After messing about with manual settings on ISO 400 I ended up settling for program mode with flash.
I started off by locating a good viewpoint on the river bed, with interesting foreground rocks. This was far enough away from the fall that spray wasn't a problem, and I got a few decent shots there. The dog insisted on splashing about in the river in front of the camera for a lot of the time though, so I had to wait until he was out of the picture.
I took more shots from two more viewpoints, including the previous day's, and got much better results. Even though I had to deal with spray there weren't any raindrops to worry about, and the shorter exposures gave less time for spray to collect on the lens. At one point the dog ran along the path that went behind the waterfall, perhaps he wanted to be in the picture? I don't think he can be seen clearly though, he wouldn't stay still.
During this time there were a few other visitors, including families with kids, some of whom were bothered by the dog, who was no longer paying much attention to me. Some of them thought the dog was mine and gave harsh looks in my direction, but I explained that he wasn't.
Going back down to the riverbed I then proceeded to photograph some mushrooms. They were growing in great profusion on some tree trunks and I got some nice shots. I tried a mixture of fast film speeds and flash with interesting results. I took about sixty photographs with no battery problems.
I really enjoyed the last day. Much better photos and far more pleasant not walking in rain. It's a pity that the autumn colours have become so good in recent days. With the recent rain the time is really good for waterfall photographs now, much better than earlier in the month. Seems I'll have to make more visits in the coming weeks, but for now I need a nice long rest.