Day 4 - Kilvey Hill
Swansea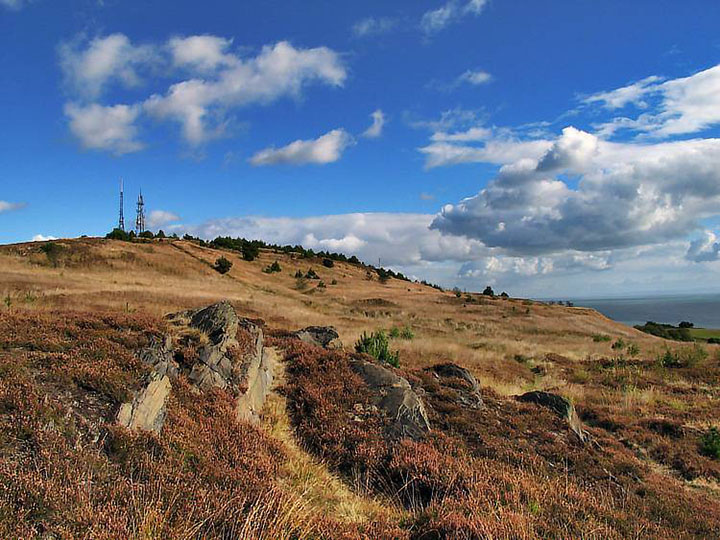 The summit of Kilvey Hill with its radio and television masts
Didn't get out early enough on this day, and by the time the afternoon arrived I was feeling a bit lazy. Therefore I opted for a quick short walk up my local hill, Kilvey, overlooking Swansea.
It started with the usual steepish ascent, through the burnt-out forestry (a remnant of the forest fires earlier this year) to a decent viewpoint overlooking the River Tawe. Continuing on upwards in sunshine I didn't hang about taking many photos so I made quick progress. First real exercise I've had this month. The light and clouds were quite good when it levelled off, so I took a few shots of Swansea and the bay, with Mumbles in the background, and one of the summit in the distance.
Approaching the summit I suddenly noticed a rainbow inland. The mountains looked to be swathed in a downpour while the coast was still sunny. The low angle of the sun at this time of year caused a rainbow as the sunlight hit the edge of the rain. Although a bit faint overall, the colours were quite strong and saturated at the rainbow's end, which just happened to be the Swansea industrial park. As I grab a few shots of it a few drops of rain started to fall.
I quickly reached the summit, a sad little spot where a trig point once stood, and looked over at the masts, now dull in the shadow of a shower cloud. There was quite a strong chilly breeze up there and it made quite a noise as it blew through the masts. "Whistling" is not the word for it, more a kind of mechanical creaking. Not having bothered to bring waterproofs for such a short walk I made rapid progress downhill toward the forest, hoping that would give me a little shelter. As it turned out the shower was very light, barely managing a drizzle, and it soon faded away. I was back at the car in record time. My quickest walk so far this month.
Distance: 3.0km - Ascent: 170m - Effort Rating: 4.7 - Duration: 47 minutes - Summits: 1