Day 17 - Fan Fawr
Brecon Beacons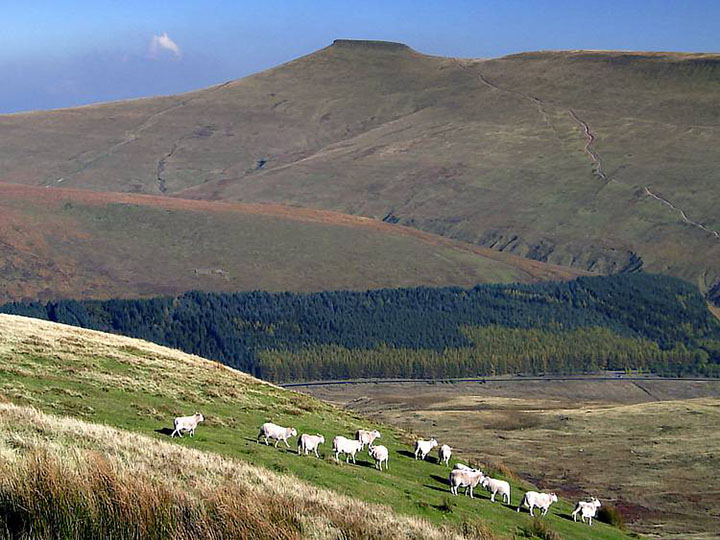 Corn Du seen from Fan Fawr, with lively sheep in foreground
On the next sunny day I planned to visit the Black Mountains with Bill Grey, intending to climb Pen Cerrig-calch and Pen Allt-mawr, a repeat of the Beacons expedition walk in the snow that Bill missed out on. However, in spite of a clear sunny start to the day, as we drove up the Neath valley the sky quickly filled with clouds, seemingly billowing over from the Rhondda area. I suspected it might be valley fog rising to form cloud and. By the time we reached Hirwaun the sky was virtually overcast and Pen y Fan was shrouded in hill fog. Unsure of conditions on the Black Mountain, we decided to change our plans and walk up nearby Fan Fawr, since we were in the vicinity and it was still lucky enough to be lit by sun.
Starting from the south side of the Beacons reservoir, we ascended west and followed the Cefn yr Henriw ridge to the summit of Fan Fawr. The wind was much stronger and colder than previous days and it was starting to become quite unpleasant in the wind. At the top we stopped for a while and watched the hill fog over Corn Du slowly disperse. Eventually it cleared by the time we began our descent, as the picture above shows. The purple bank of fog can be seen just behind.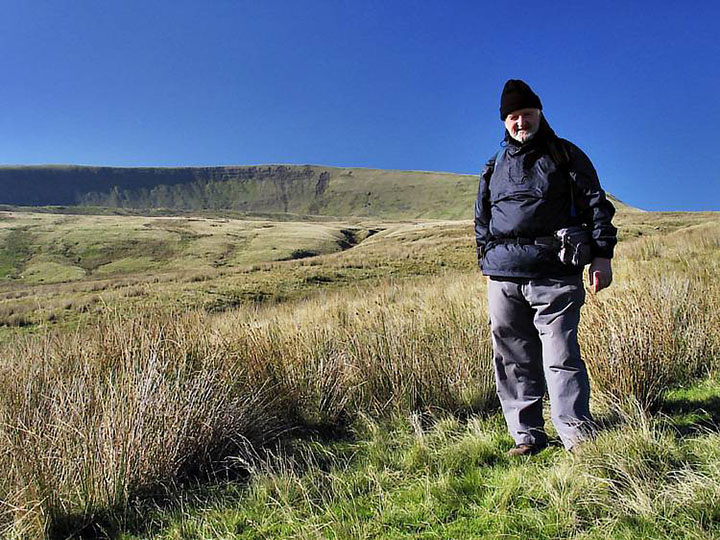 Bill Grey with the Fan Fawr ridge in the background.
As we descended we encountered numerous sheep, some of whom were engaged in head butting competitions. I stopped for a while to photograph them and take some videos with my digital camera. The north-easterly descent was very steep at first, but soon levelled off. The remaining stroll across rough ground was easy enough, and I stopped to take a snap of Bill Grey with Fan Fawr in the background. We saw a few interesting fungi back at the edge of the forest, including fly agaric.
Distance: 5.4km - Ascent: 340m - Effort Rating: 8.8 - Duration: 3 hours 32 minutes