Day 7 - Garreg Lwyd
Brecon Beacons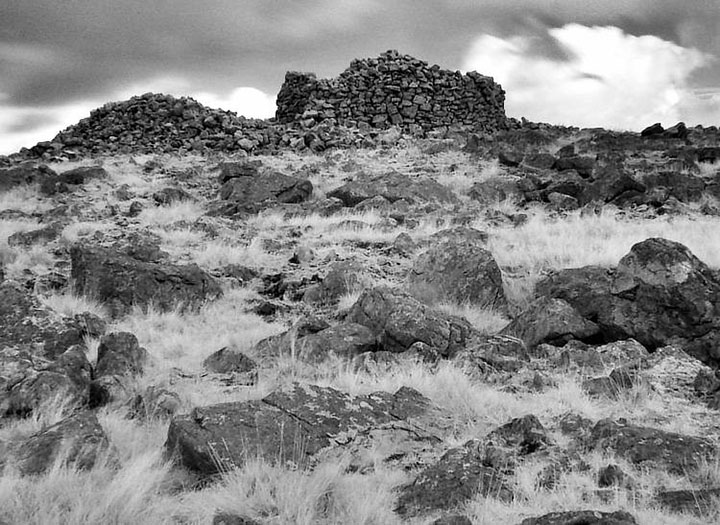 Garreg Lwyd Summit Cairn - an infrared shot converted to black and white
Another late start and more rush hour traffic to contend with. This time I thought I'd add to my summit total but being short of time I opted for Garreg Lwyd at the very western end of the Brecon Beacons, easily accessible from the road.
As I got there a farmer was driving a quad bike around, herding sheep and bringing them down off the hill. The sunshine was intermittent with large swathes of thick cloud racing through the sky, bringing the possibility of a sunset, or perhaps rain, I couldn't be sure.
In my rush I'd forgotten my gloves and hat, which was silly of me, although my fleece had a convenient hood. The wind was quite strong and the wind chill a little unpleasant, so I donned my waterproof jacket to help keep it out, but that left me with chilly hands for operating my cameras.
The short climb was uneventful and mostly shrouded in shadow, although the clouds made for a few decent snaps. Reaching the huge summit cairn of Garreg Lwyd I stopped to take a number of photographs, it being the most interesting feature in the vicinity (rounded hills don't make very spectacular photographs). I took a number of infrared shots, all of which required long exposures, but the strong wind caused the tripod and camera to vibrate, ruining some of them. Still, some of them turned out okay.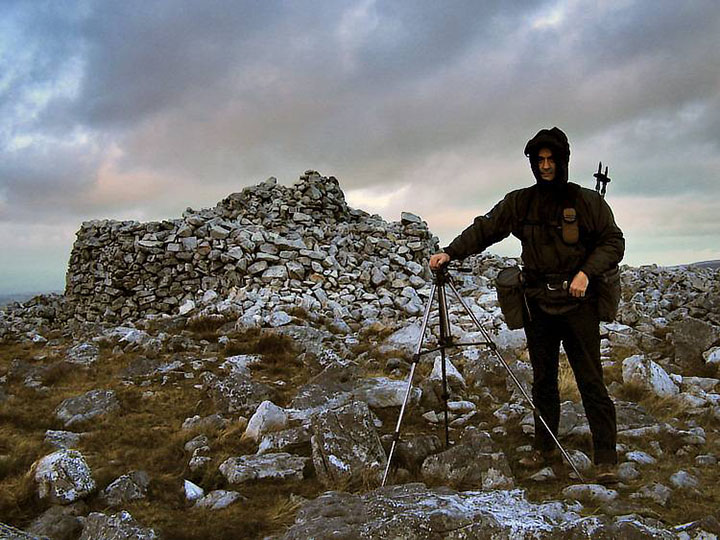 A self portrait in front of the huge cairn on Garreg Lwyd
Why isn't the camera on the tripod?
The clouds continued to build up, and after a brief promise of something interesting the slightly pink upper clouds turned grey and I realised there'd be no sunset, so I set off back to the car. There wasn't enough time to extend the walk to Foel Fraith, and I had no torch with me.
On the way back down the hill I suddenly realised that my wallet was missing. It should have been in my back pocket but wasn't. After a brief moment of panic I reasoned that I'd probably left it at home, but couldn't be sure. It wasn't far back to the summit so I trudged back up, just to be on the safe side. Sure enough, it wasn't there, but what was there was an almost full moon that suddenly appeared from behind the cloud bank.
Since I was there I figured I may as well set the tripod up again and take some shots of the moon behind the cairn. The light was low and the exposures long and the wind made it very awkward to ensure good results, so I bracketed and used varying exposures. In calm weather I could have done much better but the wind made it difficult to ensure the best results. The wind chill and my cold hands didn't encourage me to take my time over it.
I recall thinking that the conditions were not at all pleasant for anyone spending the night on the mountain, unless wrapped up snug and warm in a thick sleeping bag and a hot cup of tea in a tent well sheltered from the wind. Now that did sound appealing...
I retraced my route as best I could with the GPS but in the fading twilight it's unlikely I'd have spotted my wallet anyway, even if I had dropped it up there. It turned out that I was correct, I had left it at home after all. However, returning to look for it may have resulted in the best shots from a bad day.
Distance: 3.4km - Ascent: 170m - Effort Rating: 5.1 - Duration: 2 hours 1 minute